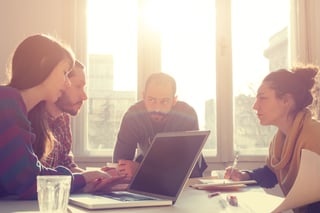 At first thought you may think financing is not truly a payment option that small businesses need or use all that frequently. After all, their technology needs are not as considerable in scope or cost as larger organizations. What is the benefit of financing a $7,000 phone system, or a $10,000 WiFi network upgrade, or other small ticket technology equipment? Most small businesses prefer to pay cash and own this type of technology equipment. Right?
Well, not really. This logic is faulty on many counts. While our experience with customers bears this out, so does industry statistics. Consider the following five points with regard to small businesses, how they use technology, and why having various payment options beyond an outright cash purchase may actually be more critical than expected.
---
1. Small Is Relative
Is a $7,000 phone system really a small ticket sale and minor expense? In the eyes of IBM, sure. From the perspective of a small proprietor like Bob's Auto Repair, taking $7,000 out of their operating capital has a noticeable financial impact. Many competing financial needs may take priority … payroll, marketing campaigns, inventory … yet a phone system is critical to operate any business. We complete finance transactions for organizations just like this for small ticket sales between $3,000 - $15,000. Every organization will have to pay for technology; some are just smarter about it than others.
2. Financial Strategies Are Not Just For The Big Guys
Many large organizations take advantage of the ability of operating payment options to keep technology equipment and associated liabilities off balance sheet. This can be even more important to small businesses as their other obligations, loans, and financial arrangements often impose financial covenants to maintain debt ratios below certain thresholds.
3. Options Are Good
The limited financial resources of smaller organizations actually create even greater significance to having multiple procurement options. Cash is not the best, is not the only, and is not a possible option for everyone. Neither is a bank line, a loan, or credit cards. Financing empowers small businesses with an additional meaningful payment option.
4. Growing Pains
While a goal of every business is growth, a successful small business may see growth impact their technology needs more abruptly than a larger business would. The decision to pay cash for a network upgrade two years ago can come into question when the business needs a completely new solution before they have even completed the depreciation of the previous purchase. The way small organizations pay for technology solutions can become very significant in how they manage their growth.
5. The Numbers Don't Lie
Although we can recite numerous additional reasons why small businesses finance technology equipment, the statistics verify its use and relevance as an attractive payment option for this segment of the marketplace. In a recent survey by GE Capital, 85 percent of small to mid-sized businesses prefer financing tech equipment.
Technology solution sales are a competitive environment. Being able to provide traditional and industry exclusive monthly payment options to your small business clientele can be an easy way to provide value they seek and use.
---