TAMCO Partner Highlight: Colortone
Colortone was established in 1946. That's correct, over 75 years ago. That's impressive to come across companies with that kind of longevity anymore. The brand has done a phenomenal job making the right transitions at the right time to continue its legacy. In its infancy, Colortone sold photography accessories that migrated to technology like VHS and overhead projectors and as the years went on they met the needs of the advancing AV market.

They found themselves designing and providing equipment rentals for hotels but eventually evolved into integrating on-premise complete AV systems. It was in 2015 when the company was sold to its new owner, Olivier Peardon. When Olivier acquired Colortone the business was about 75 percent equipment sales and 25 percent integrated solutions. He understood that this model wasn't going to create loyalty and customer lifetime value. Over the course of the first two years, he turned that upside down, in a positive way. Today, his equipment accounts for only 5 percent of the company's revenue. With Olivier's early goal to be an integrated solutions business, it was a perfect alignment to collaborate with the TAMCO partnership and the AV as-a-Service subscription solution.
Overview
In today's world of technology, audiovisual solutions are no longer a nicety, but a necessity. So when Durante Rentals, an equipment rental company in New York Tri-State area, began a build-out of their location that consolidated all of their executives into one location, they needed an AV application that would allow them to effectively conduct business operations among their branches and help them continue to grow as a company.

When Olivier, with Colortone, met with Durante about their new AV needs, Durante expressed their need for a solution that was cutting edge, quick to implement, cost-effective, and could be utilized and scaled over a period of time as needed.

Olivier took a consultative approach to help them not only integrate the right solution but provide Durante with a program that would give them the best control, flexibility, and peace of mind over the next five years.

Instead of overwhelming Durante Rental with all the bells and whistles, Colortone focused on providing them exactly what they needed. Melissa Thornton, IT Director with Durante expressed how the main deciding factors came down to the service component, being able to lean on Colortone was invaluable, and knowing they have the option to scale and refresh in the event their solution no longer serves their needs.

Olivier sold them on the value of having Colortone as their trusted advisor to train them, update them, and support them for as long as they used the technology, all the while preserving their capital and providing technology obsolescence protection with one all-inclusive monthly price with TAMCO's AV-as-a-Service.
"Durante put their trust in us and we promised to hold their hand through the entire term, being there when they need us, and making sure they are empowered and feel capable of everything they have access to. Anyone can get the latest and greatest in technology. It's so much more than the products being offered. We care more about what's needed as a client and how we get you to use it and not be afraid of it."

- Olivier Peardon | Colortone

(Download Case Study as a PDF)
The Challenge
When Durante Rentals moved to their new headquarters, they had to do a completely new build-out which included a brand new conference room. They needed a multi-functional space for board meetings, collaboration between branches, training, client calls, and more. They knew what their goal was and had their CAPEX budget, but they weren't aware of all the technology they could have access to that would help them become more efficient in their operations and meet those goals. This is where Colortone stepped in and was able to lead and consult through the entire process.
The Solution
Olivier kept it simple and, based on their needs, he recommended a Zoom Room conferencing solution. Equipped with the ability to communicate between offices, guests, and clients. He recommended a reservation panel for outside the room and a table controller, both of which synchronize to their Office360 service.

This is where Colortone and Olivier separated themselves from the competition. Instead of talking about CAPEX and cash terms, Olivier recommended TAMCO's AV-as-a-Service offering. Olivier highlighted the flexibility of the offering even though Durante initially planned a CAPEX budget. "Keep your working capital working and use it on revenue-generating assets." Olivier shared with them. They now have the ability to scale if they grow without financial penalty, and all-in-all have more control and support than they would have had to utilize a capital expense payment option.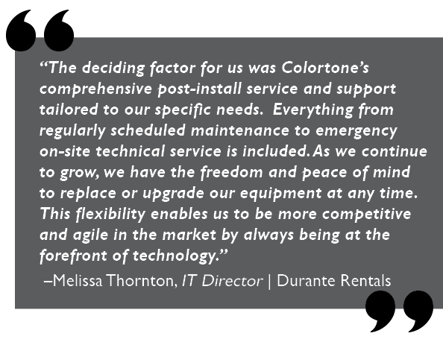 Conclusion
The great thing about Colortone positioning this type of solution is that it creates contractual loyalty, but the customer has Service Level Agreements to protect themselves. Colortone sold them on the value of the service they would be able to provide by leveraging TAMCO's AV-as-a-Service. He assured them Colortone would support them through the process and make sure they would maximize the use of the technology for the highest level of efficiency and productivity. TAMCO's AV-as-a-Service offering is beneficial for both a customer and an integrator. Customers are able to protect their cash against non-revenue-generating assets. They have the protection and support from their integrator's service plan and the ability to scale their solution as they grow and evolve. For Colortone, they now have a lifelong customer. They've built a great relationship and are able to foster that for years to come.