Do you ask questions so you can discover what technology solution you should recommend to your prospect? Most technology integrators or any sales professionals have some type of discovery process, where questions are asked, pain points are discovered, and information is collected in order to help guide a sale and advise customers to make a favorable decision for their situation.
Technology sales tends to be one sided, but there are two sides to a solution sale. Whether you sell security, surveillance, AV, IoT, voice, data, or any other related type technology solution, you have two parts to your sale. You sell the solution or the what to buy which is the most known. However, there is also what we call the how to buy. It is the most overlooked part of the sale on the part of the sale representative, but can be the part that creates the most differentiation for you among competitors when you lean into it.
How Not to Position How to Buy
One of the biggest mistakes technology sales professionals make is offering every payment option available on their proposals. Or the other common way to present a payment recommendation is by telling your prospect the lump sum cost and allowing them to decide how they want to pay. You would never layout a multitude of solution options that range in price, equipment type, and capabilities. You certainly would never walk in to a prospect meeting and tell them to figure it out on their own and let you know what they want. You are not an order taker. You are a sales professional. You are a product knowledge expert. So, why do most integrators or solution providers do this when it comes to addressing how to pay?
Create a Competitive Advantage
Set yourself up for success and a sale that will win in your favor. Learn how to make a credible total solution recommendation that includes what to buy AND how to buy. Get involved in helping customers with things like protecting their capital and avoiding a large capital outlay, or giving them the opportunity to stay at the forefront of technology with as-a-service monthly payment options. You already know about a cash purchase, so get to know exactly what introducing/positioning financing is and is not so you can start landing yourself more wins.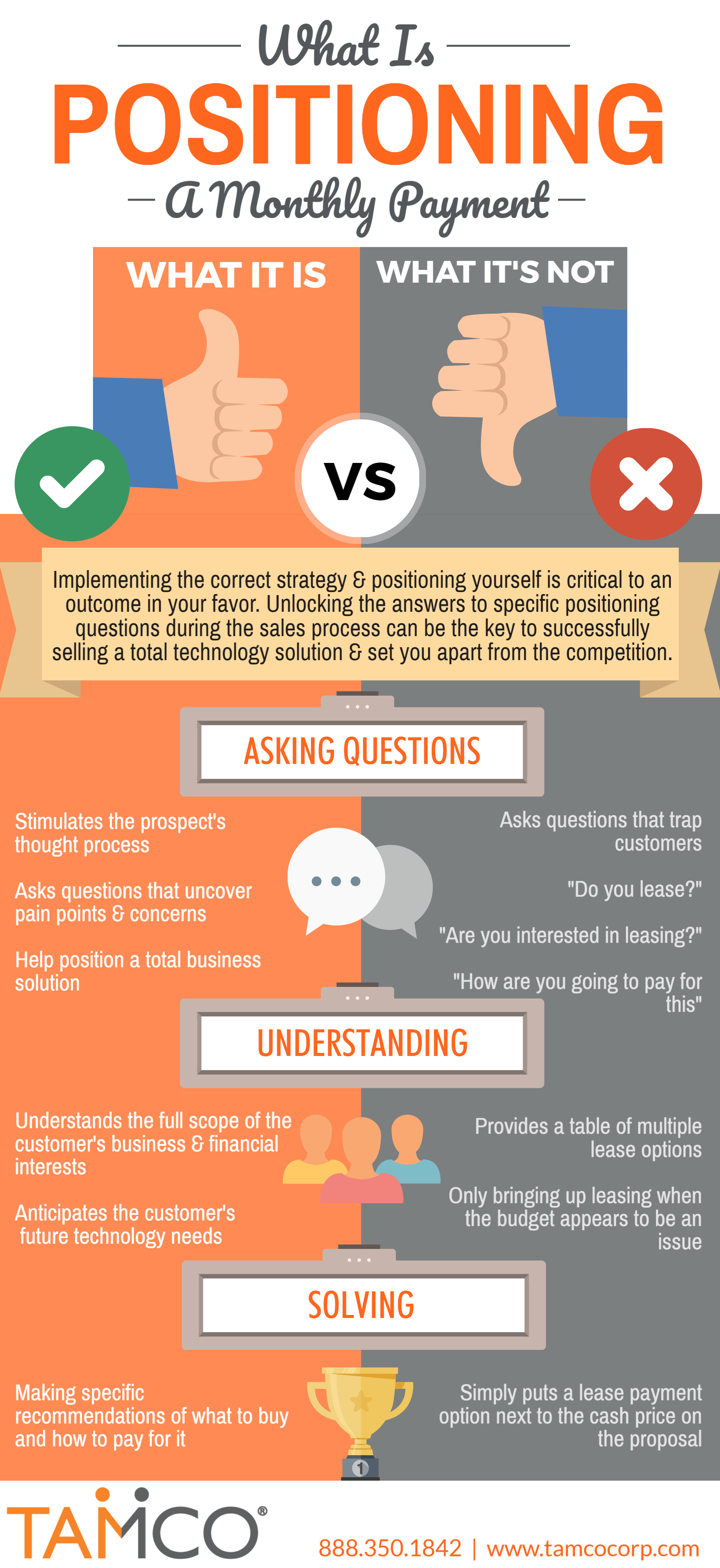 Want to learn more about making a monthly payment recommendation into your sale? It starts by asking the right questions during your sale. Download our training guide and positioning worksheet, 8 Discovery Questions to Help You Sell Technology-as-a-Service. Start positioning a total business solution for your customers and differentiate yourself from competitors.