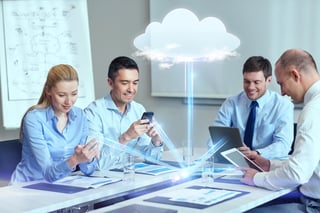 While everyone is trying to head for the cloud, take a moment and think about how you want to acquire the cloud endpoints and equipment you will need to operate in the cloud. With the conversations always about the network, have you put any consideration into the equipment or endpoints?


To Own or Not to Own?
Many companies chose to pay cash for their endpoints. Whether you have been trained to pay cash or go after the lowest financing rates on the market, in the end you may only be making things messy.
The Option You Did Not Know About
Your other option is financing equipment as an OPEX. This provides flexibility of having the same contract term as the cloud service. When you bring cloud on board you are going to be set up with an OPEX financing type monthly payment option. The best thing you could do for your business is to acquire your end points or equipment just like the network, as an OPEX lease.
The Benefits to Going OPEX
With an OPEX lease on your equipment, you will have greater control and flexibility by making sure the OPEX term on the equipment coincides with the OPEX term on the service. You are using an OPEX when you acquire your cloud service, so keep it simple by using an OPEX lease for the cloud endpoints and equipment too.