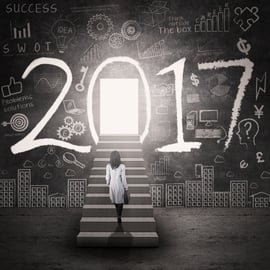 While you sell UC and IT solutions, in order to be successful your knowledge, expertise, and adaptability must go beyond just the technology. There are quite a few things you need to stay in tune with, including:
The direction of the industry

The evolution of buyer behavior

Trends in sales and marketing strategies

The general business and economic environment

Global markets
That's a daunting task! So to help, we are creating a series of blog posts that will consolidate the most forecasted trends for 2017, emphasize notable expectations, and highlight why particular details should matter to you.
We will break out the following topics in upcoming posts:
2017 Tech Trends

2017 Business Trends

2017 Economic Trends

2017 Sales & Marketing Trends
What Do You Think 2017 Has in Store for You?
Have cloud solutions overtaken premise based technology sales? Will advancements in Artificial Intelligence (AI) replace sales executives? Is buyer attention increasing, decreasing, moving to other forms of information, or all of the above? We look forward to sharing answers to these questions and more as you shape your 2017 business plan and sales strategies.
Click here for the first article and see what is in store for 2017 Tech Trends.