Listen closely. If technology equipment is still a large portion of your technology solution sales and you want to build monthly recurring revenue (MRR) streams, there is one thing you should be doing.
**Selling more multiyear maintenance (MYM) at the point of sale.**
Even Gary Vaynerchuck, world famous entrepreneur, has been preaching the importance of selling services in your industry,
"Anyone not trying to triple down, 10x down on being in the service business above and beyond after the first transaction is just not running as smart of a business as they can."
How To Sell More Multiyear Maintenance & Service Contracts
The issue is that selling multiyear support at the point of sale can be hard for solution providers when equipment sales is a large part of your sale. As an example, how do you get your customer to buy an extra $10,000 in multiyear support if they are already acquiring a $50,000 solution? That's a lot of money they can use towards their business.
The solution lies in how you position and recommend that $60,000 bundled price. Are you displaying the cash purchase price? This works against you. Showing that large price and the added multiyear support contract makes it too easy for a customer to ask for it to be removed.
DID YOU KNOW: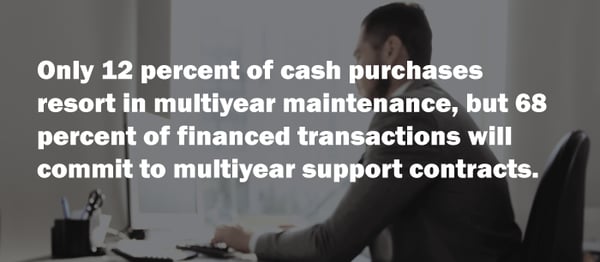 If you want to sell a valuable solution that elevates you above competition and can help you capture more multiyear maintenance at the point of sale, get into the mindset of making one recommendation as the smart way to pay. Recommend technology equipment as a service with multiyear support bundled into the proposed price.
When you position technology equipment as a service with MYM as the smart way to pay, you are adding value for your customer, but you are putting yourself in a good position to earn more recurring revenue. Simply put, a monthly payment is more palatable than making a large capital outlay. And remember, you are 6-7x more likely to sell the multiyear maintenance with a monthly payment recommendation than offering a cash purchase price.
Side note: If a customer is convinced that paying cash is best for their business, they will request to see the purchase price from you. In our 25 years in business, we have never seen a solution provider lose a sale because they did not initially provide a cash purchase price option.
Do you want to learn more about building recurring revenue opportunities for your technology solution business? Check this out: