As a technology solution provider, having a "box sale" mentality is doing a huge disservice to your profit margins. You have to capitalize on the opportunity to sell multiyear maintenance (MYM) at the point of sale if you are serious about growing your recurring revenue and profit margins. However, it is highly unlikely that you will be able to gain customer commitment for MYM when you present them with a cash purchase. Only 12 percent of cash purcahses resort in MYM, but 68 percent of financed transactions will commit to multiyear support.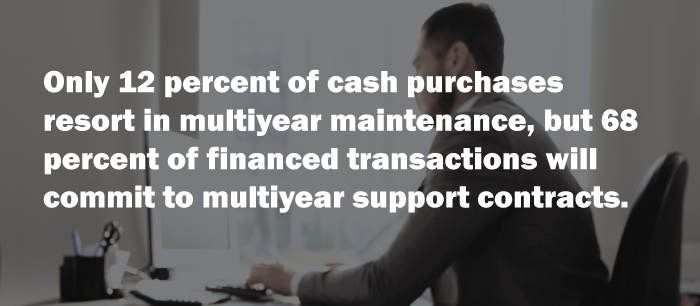 This is what happens when you recommend a monthly payment with bundled multiyear support instead of offering a cash price out of the gate:
1.Upfront Revenue to Satisfy Distributor Costs
Equipment and associated charges are financed and paid to you up front, allowing you to address your costs due to distributors.
2. Build a Recurring Revenue Stream
If you use a TAMCO payment option, we include your bundled support charges on the customer payment invoice and forward those support charges to you each month as the customers pay. As you
position a monthly payment
with bundled support on more and more sales, this becomes a great way to grow reliable monthly revenue for your business.
3. Increase Profit Margin
Margins on maintenance and support are considerably higher than on the actual equipment sales. In fact, they are about 35% higher. The ability to secure a multi-year commitment on such a high margin sale will significantly help your bottom line.
4. Create Customer Loyalty
When customers commit to bundled maintenance, they expect to see you whenever they need equipment support. That alone creates an element of customer loyalty. Combine that with the way a payment option such as
TAMCO Shield
contractually ties the customer to you for the future solution upgrades, migrations, or renewals, and you are well on your way to long-term customer relationships.
The union of multi-year maintenance and finance transactions creates a power duo that benefits both the customer and you, the solution provider or value-added reseller. The protection, flexibility, and budget-friendly features of a payment option like Shield mixed with the consistent monthly income, increased customer loyalty, and higher profit margins from selling multi-year support is a win on all fronts.