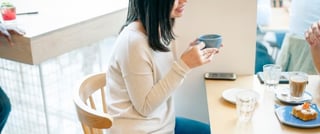 You have met someone! You feel a connection. Maybe there is potential for a good relationship. How do you get to know them these days to learn what he or she is all about? If we were talking about dating, everyone knows, before you start getting in deep with actual conversation and meet ups, you hop onto the internet and do a little snooping. However, I am talking about vetting your technology equipment sales prospects.
I often hear sales people say "I wish I would have known a customer had limited capital or bad credit from the beginning, before discussing options like financing." Even if a prospect is set on doing a cash sale, we consistently see the tides can turn to explore the financing route. This always makes me bang my head on a desk; because TAMCO's pre-qualification tool exists precisely to help you avoid these hiccups.
The pre-qualification process is, basically, a dating app for prospects that gives you a peek inside their financial health. The pre-qualification lets you know if this customer is a match for financing or has a sketchy background so you should ask and make sure they have the capital to pay, from the beginning.
If you want to learn more about the basics of the pre-qualification tool, you can learn more here. For this post, I want to help you understand exactly what happens when you submit prospect info with hopes of discovering great intelligence that could help you decide if this is a relationship worth your time and attention.
Step 1: Where The Relationship Begins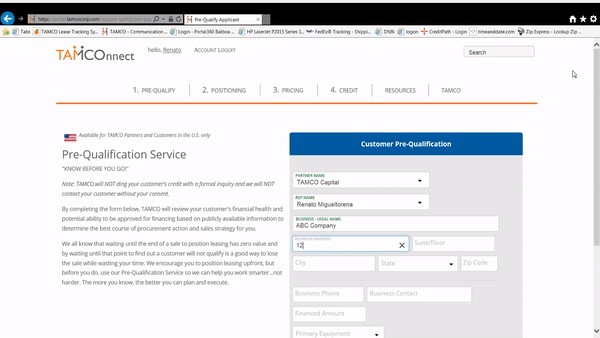 First, you fill out the pre-qualification form (pictured above) and off you go. A few hours later, at most 24, you will hear from your TAMCO contact about the results.
Step 2: Snooping, a.k.a Research!
After hitting submit an email notification alerts me, or one of our other (probably less charming) credit people, prompting credit review of the submitted customer. Here is what that looks like: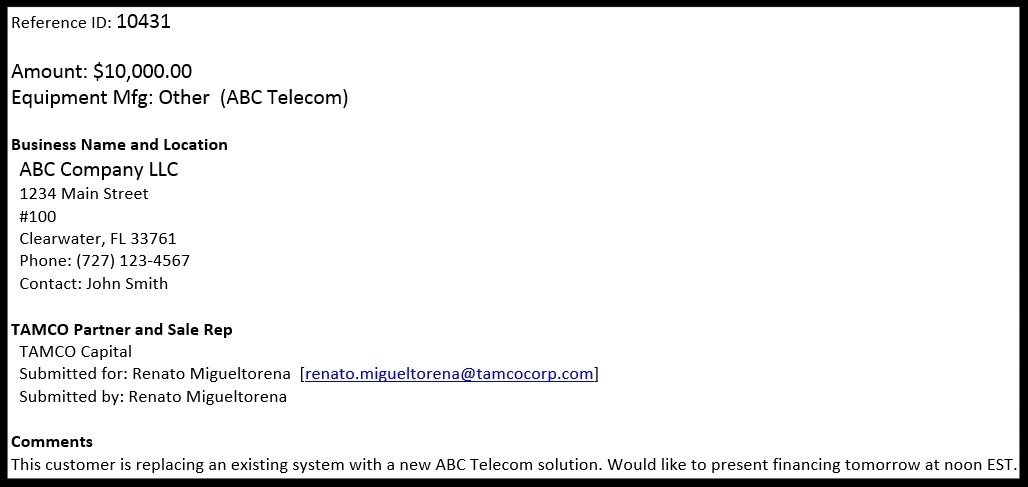 I know what you are thinking, "WAIT, I don't want my new flame to know that I'm screening them!" Do not worry! The reports and other information reviewed will not send any notification to your customer. They never have to know.
Step 3: Analyzing. Will This Relationship Work?
Once I have reviewed the information found on the customer, I will update the record in our pre-qualification system with one of the following three designations:
Pre-qualified
Pending Information
Rejected
The most common designation that we issue is the Pre-qualified tag. This means that we found established credit information on the customer and did not see anything that presents a major problem with proceeding to the credit process.
Along with the Pre-qualified tag, we will include the items we are going to have to request if they choose to proceed with the credit approval process. These items vary from company to company depending on their credit condition and the size of the transaction, so they will not always be the same.
Set Expectations With Your Prospect
If you are moving forward with financing, mention to the prospect what will be required for the credit process when you present the credit application. If discussing any part of financing makes you uncomfortable I can give the customer a call to request any additional information when submitting the credit application to TAMCO for review.
Here is an example of what information we send to your designated TAMCO contact before they reach out to you with the good news: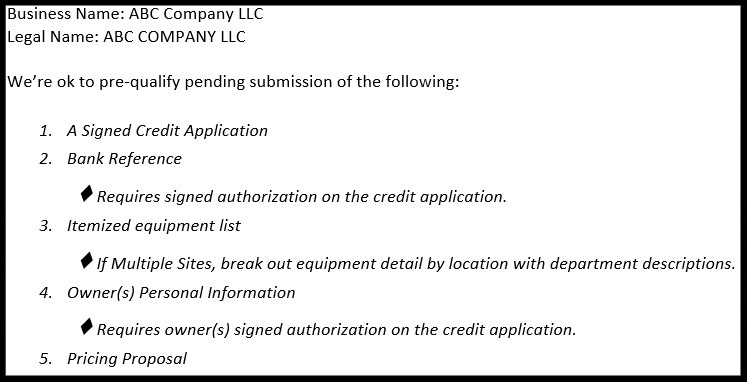 Step 4: Everyone Has Their Flaws
Unlike the Rejected tag, which means we cannot pursue the customer at all based on our initial review, the Pending Information tag is used in a few different scenarios where the credit does not look perfect but we are interested in seeing more before making a final determination. The most common scenarios where we use this designation are
(a) when a customer does not have any credit reporting under the name and/or address you submitted in the pre-qualification form,
(b) the credit we find isn't strong enough to support the request, or
(c) there are concerns with specific items reported on the business credit.
Here's an example of a Pending Information email that we send to your TAMCO contact: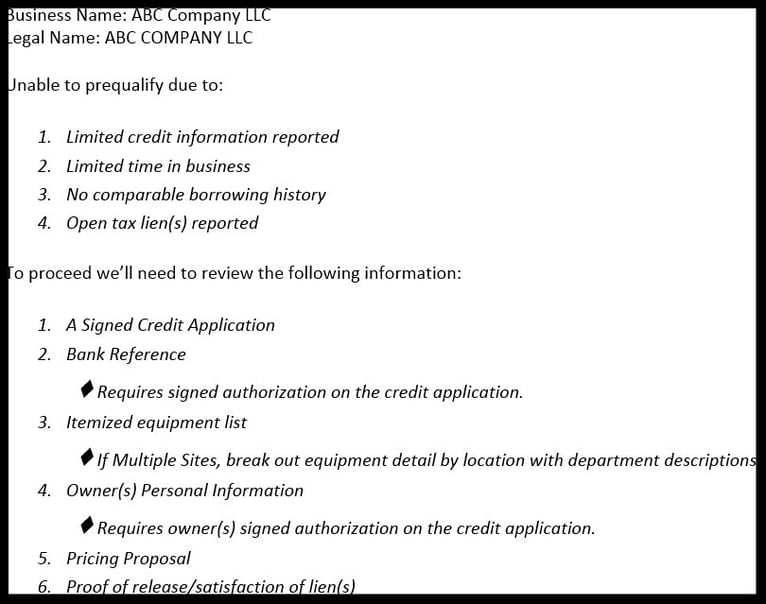 Step 5: Doing All We Can To Make It Work
If we cannot pre-qualify the customer, we will exhaust all available options to approve a customer as long as the customer is willing to work with us. There are going to be scenarios where the customer's credit does not give us the opportunity to move forward, but with our approval rate percentage in the mid-nineties those should not come up too often.
---

CONCLUSION:
Having the knowledge about your prospect before you go further into the sale can be the difference between a dud deal that has wasted all of your time or playing it smart and making the relationship flourish. It is a strategic and noninvasive way to learn everything you can about a potential prospect. Now if only there was actually a similar process with dating!