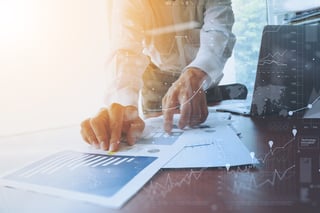 Doesn't it seem like everyone knows it all these days? Every person who knows how to use Google is apparently the on site expert. Do your customers ever act like they know more than you do about what you are selling?
It shouldn't be a surprise that statistics say that customers are already 50 percent through the buying process before they ever pick up the phone to include a sales person like yourself.
What Are You Doing to Accommodate Today's Buyer?
Because of today's overly informed buyer, Frontier Financial Solutions is helping the Frontier sales teams rethink the way you work the sales process. Following our easy 4-Step How To Buy Process will allow you to optimize your sales process. It helps you take back control and become the more informed, credible sales professional your customer seeks.
What is the 4-Step Buying Process?
This 4-step process will make you a more informed seller to accomodate today's overly informed buyer. The steps are:
01: Pre-Qualification
The first step allows you to identify any red flags about your customer and discover if there are any paths you should not go down. Pre-qualifying customers saves everyone a lot of time, by knowing what they are and are not eligible for. Pre-qual every customer early in the process. Just login to the FFS portal and click on the tab labeled "1. Pre-Qualify." Click here to learn more about the pre-qual process.
02: Positioning Questions
Next, discover what solution they need to buy and how they need to buy it by reviewing the positioning questions. These eight questions are specifically formulated questions that all solution sales professionals would want to know about their customer. The questions cover three categories - planning, procurement, and service.

Extra Resources:
03: Pricing Recommendation
Once you have pre-qualified your customer and have a clear understanding of their pain points and business needs, you are ready to recommend a procurement option by utilizing our pricing tool. Just click the tab labeled "3. Pricing" in the FFS portal.
04: Credit Application
It is not until an actual credit application is submitted do we run any customer's credit. Not even during the pre-qualification stage. This is the last step in solidifying the transaction and bringing it to fruition.
When a Frontier AE or other sales rep follows this process, they are setting themselves up for success. They are getting in front of the buyer and positioning themselves as a credible sales professional who is invested in making sure the customer is making the right decision.
What other finance company encourages you to be a better seller and makes it this simple?