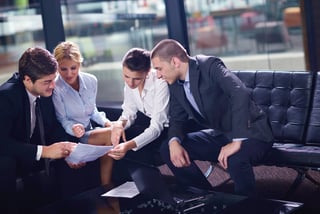 Every industry is cluttered with its own jargon. The sales industry is no different than any other. The CPE and telecom sales industry can be even worse.
So, why do we need to throw one more term into the mix? Because REPPS is an acronym that should not only be a part of your daily process when interacting with customers, but what it's teaching can be used in all aspects of your life.
Anytime you interact with emotional, tense, confrontational, or an overly needy person, you could essentially use REPPS as a way to come to a peaceful resolution! You could even try it out on your spouse if you don't believe us. After being around in this industry for over 22 years, this acronym is tried and true. When implemented correctly, we have witnessed rep after rep win over customers and win deals.
So, Here Are The Basics to REPPS:
R: Relax
When customers reach out to you, they are in need. Sometimes they are upset - they could be demanding, or just plain needy. Making sure you stay level-headed is so important for setting the tone of how the rest of your interactions will go.
E: Empathize with the Customer
Let them know that you understand their pain and will do what is necessary to correct the problem.
P: Probe
Don't be afraid to ask questions. Ask the right questions that will give you the answers you need to do your job effectively. Gathering detailed information about customers and their problems will only help you help them in a more strategic way. Dig in, respectfully, and really uncover the root cause of their pain.
P: Play It Back
Repeat back to the customer what you heard them say. This will eliminate misunderstandings. For example, you could say, "if I heard you correctly, it sounds like you have had a tough time getting someone to call you back."
S: Solve
The most important concept to understand is that if you solve without probing and getting a detailed knowledge on past, present, and future concerns, your customer will end up confused on how you arrived at your conclusion. You most likely will recommend the wrong solution for them. Of course there is always a small chance it could be right, but either way, you're shooting in the dark.
On your next customer interaction or transaction, give this strategy a try. You may surprise yourself at how responsive customers become to you. If you need additional help with REPPS, your designated FFS contact can help you confidently implement this strategy.