They're Not Mind Readers
A common argument we hear all too often from sales professionals is, "I don't do leases because my customers don't ask for monthly payment options." We very quickly follow that up with the simple question, "well, did they know that a monthly payment option was available to them?"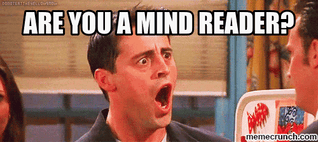 The concept is simple. You don't know what you don't know. How could the customer ask for a monthly payment option if they didn't know it was an option to begin with? Presenting cash as the only how to buy option makes the customer think it's the only option.
As you and I both know, this couldn't be further from the truth. There's a myriad of different (and smarter) payment options out there for them. Not to mention leasing often makes smarter business sense for the customer and opens the door to more recurring revenue for you. So, how do you break this bad habit?
Breaking the Habit
Start by improving your sales process. Ask better questions and recommend THE (yes, singular) payment option that makes the most sense for the customer - whether they ask for a monthly payment or not.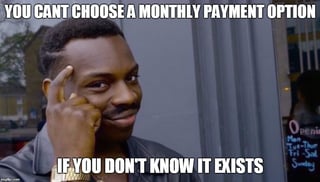 How often do you give your customers a long list of equipment options to choose from? The most successful reps would never. The concept is the same for payment options - only give the how to buy option that you know fits their immediate and future needs. If you ask the right questions early on in the process, it's rare that a cash purchase is the right option for them.
Check out our recommended discovery questions. Asking these questions will not only help you recommend the what to buy, but also position the how to buy. Recommending THE best technology solution and THE best payment option that suits the customer's needs will make you look more professional, knowledgeable, and trustworthy.
Don't wait for the customer to ask for a monthly payment option - they probably don't even know it's a possibility. Be the hero in the sale. Create a total business solution that works for them, both technologically and financially.