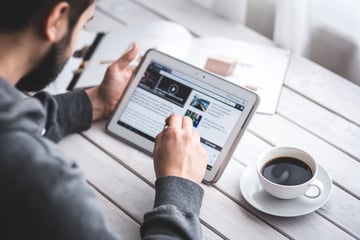 Staying in tune with sales and marketing trends can be the difference between being perceived as relevant and respected or dated and out of touch.
Having looked at business, technology and economic trends on the horizon in 2017, this is the last piece to round out the trends we are expecting to see this year.
Sales & Marketing Trends to Pay Attention to in 2017!
Various sources suggest the following are five business trends we will experience in 2017.
#1 Livestreaming is Pushing Boundaries
Livestreaming on platforms such as Instagram stories, FB live, Snapchat etc is going to continue pushing the boundaries of marketing plans in 2017.
#2 Voice Driven SEO
Due to Hands-free search options such as amazon echo and Google Home, marketers are going to need to re-think their SEO game and adapt voice driven SEO strategies.
#3 Interacting with Content
You're going to be seeing more ways for readers to actively participate with your content including assessments, polls, surveys, infographics, brackets and contests.
#4 Switching Up Your Sales Game
The sales process has changed with information empowered prospects performing CSI grade research before ever deciding to speak with you, much less buy your product, service, or solution.
#5 Creating Word-of-Mouth Buzz with Influencers!
Consumers trust thought leaders opinions posted on social media or via advertisements which is giving brands the opportunity to create buzz via those personalities that are already admired by consumers.
Interesting Sales & Marketing Statistics
Check out these seven statistics about what is happening and trending in sales & marketing:

81% of buyers conduct online research before making big purchases." - HubSpot

"59% of Americans with social media accounts think that customer service through social media has made it easier to get questions answered and issues resolved." - Wordstream
"67% of leads in 2016 are generated by companies with an active blog."

"Blogging continues to grow, with over 409 million people viewing more than 23.6 billion pages each month on WordPress alone." - Wordstream

76% of marketers and small business owners in Animoto survey who have used video marketing say it had a direct impact on their business. - HubSpot

Cisco projects global internet traffic from videos to make up 80% of all internet traffic by 2019. - HubSpot

84% of B2B decision makers start the buying process with a referral. - b2nn.com
Staying Ahead of the Curve!
Sales and marketing strategies must constantly adjust and evolve. Step one to being prepared is being informed. Are you and your business ready to adapt to the current sales and marketing trends?
We've looked at a variety of marketplace expectations for the coming year. While only time will tell, continue to stay informed and ahead of the curve by understanding what is happening and what is on the horizon with the following trends:
We'll continue keeping you informed of all the latest and greatest insights regarding unified communications, telephony equipment, leasing, sales tips and much more this year!