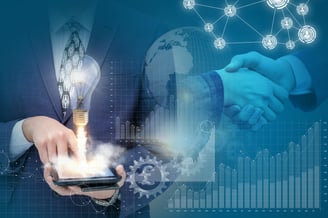 As stated in previous related posts, there is a tremendous volume of information for you to absorb and manage in order to compete effectively in today's marketplace.
Hopefully, trimming that information down to several important trends and statistics will be helpful to your efforts. Please read on as we highlight key business trends for 2017.
Business Trends to Pay Attention to in 2017!
Various sources suggest the following are five business trends we will experience in 2017.
#1 Subject Matter Experts (SMEs) & Sales partnership is your cocktail for success!
According to Forbes, SMEs are going to be working more with sales teams to help bolster sales.
#2 Retiring baby boomers result in more businesses for sale!
As more and more baby boomers retire, they'll be putting their businesses up for sale and you'll notice more millennials buying and updating them.
#3 Internal chat channels are phasing out email communication
Forbes is indicating that since businesses are phasing out emails and switching to internal chat communication platforms, such as Slack, you'll start seeing companies craft messages to their audience via social media instead of email.
#4 Business coaches are becoming as standard as receptionists
With lots of changes happening in businesses and regulations, having a business coach is becoming a standard to help quickly work through any challenges that arise.
#5 The new standard: recurring revenue models
Similar to tech companies, organizations are shifting from single or up-front payments to monthly recurring revenue models.
Just a Few Trending Business Stats
Check out these seven statistics about what is happening and trending in business:

"Crowdfunding is being used to validate products before making large investments in product development and the World bank estimates that crowdfunding would reach $90 billion by 2020." - Forbes

"About 85% of SMB organizations will use leasing as a means to pay for equipment acquisitions."

"Only 52% of small businesses have mobile-optimized websites." - expandedramblings

"Virtually all 18-34 year-old Millennials (97%) are mobile users, while 20% don't use a desktop at all." - Smartinsights

"Video is where a large amount of execs are getting their resources and information from with 65% of executives say that they visit a vendor's website after watching a video." - Forbes

"Remote workers means less overhead cost for businesses-plus 53% of employees would take a pay cut if they could work from home." - V3B

"3.6 million+ company chiefs are set to retire as younger professionals ascend to managerial slots. Companies are busy planning this transition in order to cope with the massive loss of boomers." - Modern Workforce
Staying Ahead of the Curve
We have taken a look at some key Technology and Business trends, but there are still more you will need to be aware of as you strive to be an exceptional technology sales professional. Coming soon, the next post will take a look at economic trends to be vigilant about in 2017.