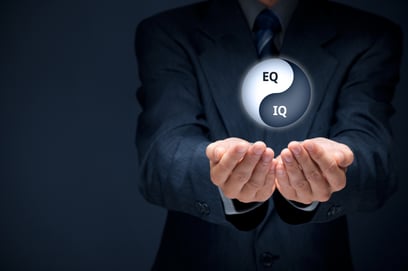 As you're likely familiar with, there is no set sales script across every industry. In fact, sales persons that follow a repetitive monologue sales script historically don't deliver the best results.
Just last year customer experience insight reported the following,
"Research by Gallup consultants Benson Smith and Tony Rutigliano shows that customer satisfaction and future business is based on an emotional connection with the salesperson. Customers who like their salesperson are twelve times more likely to continue to purchase."
That's not to say that what salespeople are being trained to do isn't working, many salespeople know what to do like they know the back of their hand.
However, your emotional intelligence (EQ) is also an essential component to the sale—especially during the stressful sales situations when emotions influence your sales skills and can result in non-productive selling behaviors, such as discounting or drafting proposals for non-qualified prospects.
What is Your EQ?
Emotional intelligence has been defined as the capacity to assess, control and express your emotions while handling the emotions of those around you both judiciously and empathetically.
There are a variety of components to fostering and implementing good sales; however, when sales is all said and done, it's simply dealing with people which is why the empathetic salesman will historically have a more favorable impact on their sales results.
"A study conducted in a large national insurance company back in 1997, found that sales agents weak in emotional areas such as self-confidence, initiative, and empathy sold policies with an average premium of $54,000, while those strong in 5 of 8 emotional competencies sold policies on the average worth $114,000."- fastcompany.com
Being able to integrate EQ into your technology sales training gives you a greater advantage over your competitors.
Top 3 EQ Skills for Your Sales Team
Just like IQ's, there is a myriad of pieces layered to create emotional intelligence skills. However, the following are the top 3 EQ skills to hone in on and equip your technology sales team with.
#1 Self-Awareness
When you find yourself in the downtime of your sales process, use it to reflect. Being aware of things like self-doubts, whether you were prepared enough, or even the areas of the process where you felt/feel confident and strong can create great self-awareness and build your EQ.
#2 Assertion
Well developed EQ's help to keep your sales opportunity moving forward and help to disqualify poor opportunities early on so you don't waste time.
#3 Empathy
Oftentimes, salespersons get so focused on the sale that they rarely stray from the script making them appear unempathetic. Having a natural empathetic conversation throughout your sales pitch is important and, as historically shown, will have a positive impact on your sale.
The Takeaway
Technology sales, in general, can seem extremely dry in nature, so it's important for your sales team to attempt to implement empathetic conversation and build that trust and emotional connection.
Asking the right questions and utilizing resources aimed at improving your emotional intelligence has the fundamentals to save time, build relationships, and increase sales which is why your EQ is the best-kept technology sales secret