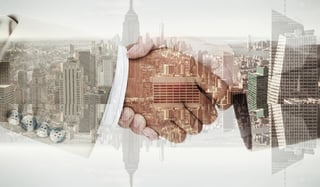 IPC Technologies has been a trusted IT and communications solution provider for organizations that strive for more agility, productivity and profitability since 1981.
As a TAMCOnnect Plus Partner, IPC Technologies understands how important it is to treat financing like a product rather than a response during the sales process.
By making recommendations to their customers not only on the what to buy question but also guiding them on how to buy, the IPC team has experienced great success with the TAMCOnnect Plus Program. Case in point is their customer iManage.
IPC navigated iManage to equip their Level 1 Support Center and international office locations with new telecom equipment through a financially beneficial operating expense (OPEX) -TAMCO Shield®.
This unique TAMCO Shield ® OPEX acts as a termed rental agreement and provides unparalleled flexibility and protection.
As you may know, technology rapidly depreciates and runs the risk of becoming obsolete over time. Therefore, with IPC Technologies suggestion, TAMCO Shield® OPEX termed rental easily became iManage's optimal financial solution for financing their telecom equipment.
iManage wasn't concerned about ownership of their new telecom equipment; rather, they attributed their operational success towards the benefits of using the telephony hardware.
Navigating the Financing Conversation
There wasn't just one party behind this decision—there were 3; the CFO at iManage, the Head of Global IT at iManage and their trusted finance provider IPC Technologies. Both the CFO and the Head of Global IT at iManage worked with each other to evaluate the most financially sound solution for iManage.
As you navigate through the financial conversation, it's important to explain how and what monthly payment option would be the most financially beneficial for them.
When IPC Technologies was navigating the OPEX Financing conversation with iManage, they engaged discussion with the right person, at the right time, and, most importantly, at the beginning of the sales process.
One of the key benefits that iManage saw in TAMCO Shield ® was using monthly payments to preserve their cash flow—big bonus! iManage typically leans toward a capital expense (CAPEX) lease for equipment purchases; however, like most technology, the telephony solutions iManage was going to use would have depreciated and become obsolete over time making an OPEX lease the more logical option.
3 Basic Questions
IPC Technologies leaned on their TAMCOnnect Plus Partnership to provide iManage with their optimal solution which was made clear after iManage reviewed a few of the following considerations.
1. How do we want to acquire this expense- OPEX or CAPEX? What are the pros and cons from a financial treatment perspective?
2. If it doesn't matter, then you have to find out what the implied financing costs are and how it compares to the company's cost of capital. If the cost is inline and not outrageous, it passes the test.
3. Think about additional value-adds. What flexibility is offered? How can we be protected if the equipment becomes obsolete? These add-ons help strengthen the argument for the right decision. For example, TAMCO Shield ® has a Solution Replacement Guarantee.
Solution Replacement Guarantee: If current solution no longer meets your needs, you can have it replaced with a new solution at any time. Your existing contract is forgiven without rolling over the previous balance or charging hidden fees.
OPEX Financing—It's a Win-Win
This hybrid solution proved valuable for each party involved; but, don't take our word for it. The following outlines just how TAMCO Shield ® OPEX termed rental provided by TAMCOnnect's Plus Partner, IPC Technologies, was financially beneficial for iManage, IPC Technologies and TAMCO.
"The world of telephony will look vastly different in three to five years from where it is today. What do you really own at the end of an agreement." - iManage CFO, Ray Scheppach
Key Takeaway
iManage understood that technology depreciates and runs the risk of becoming obsolete which is why they benefitted by having a uniquely crafted and fully flexible lease option with unparalleled protection.
IPC Technologies account executive received his commision for the sale, but he also earned an additional $6,000 in profit share bonus for being a TAMCOnnect Plus Partner!
TAMCO was able to help a partner, IPC Technologies, be a credible resource to their customer, iManage, and be the financing expert to direct the process from start to finish in a smooth and timely manner.
The following are some tips for the most effective way to use the TAMCOnnect Plus Program, including:
Thinking of financing as a product, not a response.
Addressing "what to buy" and "how to buy."

Incorporating financial positioning and discussion early in the sales process.

Leveraging TAMCO partner resources

—

you do not have to be a leasing expert.

Remembering that

consistency and commitment

to this sales approach are critical.